EVENTS
Events in Belgium and Luxembourg
A list of upcoming performances, exhibitions and events involving Australia/Australians in Belgium and Luxembourg.
The award winning Australian choreographer Antony Hamilton and Alisdair Macindoe will perform their work Meeting in Brugge on Tuesday 4 April. The work examines the relationship between man and machine with the two dancers performing in a circle of 64 musical robots, designed by Alisdair MacIndoe. The result according to Antony Hamilton's website "is an incessant and hallucinatory stream of sounds and movements in which the viewer can disappear completely."More information (in Dutch)
Recent events that have come and gone:
Circa erformed What Will Have Been in Brugge on 25 March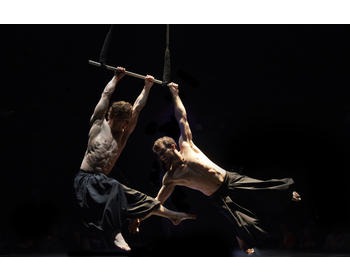 The renowned Australia circus troupe, Circa is performed their production What Will Have Been on Saturday 25 March in Brugge at the Stadsschouwburg.
"The Golden Age of Utopia" Aboriginal Art exhibition opens in Brussels
The Aboriginal Signature gallery iopened on Tuesday 28th February a new exhibition "The Golden Age of Utopia", Fine outstanding Aboriginal Art from 90's. It features more than 30 rare works from the golden age of this renowned Aboriginal artistic community located in the desert 240 km from Alice Springs. The exhibition closed on 18th March.

Lucy Guerin dance company performs Motion Picture in Bruges 1st February

The renowned Australian dance company Lucy Guerin Inc (pictured) is performed their work Motion Picture at MaZ theatre in Brugge on Wednesday 1st February. The small Melbourne-based dance company creates and tours new dance works which explore everyday events and refine dance. Motion Picture is described as "a choreography which examines the tension between live performance and cinema.

The Aboriginal Signature gallery exhibited its Aboriginal art exhibition "Empreintes Eternelles" which was organized as part of BRUNEAF WINTER. It brought together 30 contemporary paintings selected in situ during 4800 km 4WD tour that the director Bertrand Estrangin last did in Central Australia in July and August 2016.

"Gems in a patchwork" opened at the Aboriginal Signature gallery on 7th December in Brussels and ran until 18th December. The exhibition was held in partnership with 15 Aboriginal art centres in Australia and it featured a red thread which connects more than 50 paintings and sculptures.

Australian oud player, Joseph Tawadros performed in Brussels on 3rd December at the Watermael-Boitsdort Cultural Centre to an receptive and enthusiastic audience. Mr Tawadros is reputedly one of the world's leading oud performers and composers, has received numerous awards and has performed the lute-like instrument at music festivals in the Middle East.

The Australian Pink Floyd Show iperformed in Brussels at 19h00 on Tuesday 11 October at the Cirque Royal. The band's website describes them as "the biggest and most spectacular Pink Floyd Show on the planet!"

The Aboriginal Signature gallery's exhibition "Aux sources de l'art - Papunya Tula" ended on 3 December 2016. The exhibition, organised in partnership with Papunya Tula artists, showcased 35 paintings by 16 artists, including Ningura Napurrula, Warlimpirrnga Tjapaltjarri and George Ward Tjungurrayi. For more information please visit the Gallery's website

Dub FX performed in Brussels at 20h00 on 22 October at Ancienne Belgique. The venue is promoted him as "Australian busker becomes global beatboxing phenomenon"

The movie "Light between the Oceans" screened on the 18, 19 & 21st October as part of the Gent Film Festival. Set in Australia after World War One a former solider starts a new job as a lighthouse keeper on Janus Rock, bringing with him, his new wife. Read more

The Aboriginal Signature gallery's exhibition "The Spinifex Art Project" was shown until 2nd July. The exhibition featured rare works from the renowned Spinifex Art Project which the gallery describes as an exceptional art centre in one of the most remotest parts of Australia. For more information please visit the Gallery's website
An exhibition of Aboriginal art took place at the Sablon in Brussels as part of the BRUNEAF - CULTURES world art fair from 8 June until 12 June. For more information on it please visit the Aboriginal Signature gallery's website.
Spoken held an exhibition of Aboriginal art which opened on Sunday 29th May at 15h00. It was followed by a talk given by the curator Georges Petitjean, curator of the aboriginal Contemporary Art Museum in Utrecht. Spoken is located at 24 rue Zeecrabbe, 1180 Brussels and is an ASBL dedicated to children's extra-curricular activities which regularly hosts artists' exhibitions, talks and exchanges.
ICAEW Europe's annual lecture and reception on 11 May featured the Australian writer Jane Gleeson-White, author of 'Six Capitals: The revolution capitalism has to have'.
Aboriginal Signature's exhibited Women of the desert in partnership with Balgo Art into early May. It included 30 major paintings from the women in the Balgo community, a remote hub of different Aboriginal tribes at the border of 3 different deserts in Western Australia. For more information please visit the gallery's website.
Aboriginal Signature's exhibition of Aboriginal art works In between waters opened on Wednesday 27 January and ran until 19 March. It was held in partnership with the Erub and Mangkaja Art centres and included sculptures by Erub artists, made from "ghost nets" (fishing nets that have been left or lost in the ocean). According to the gallery "the Mangkaja paintings are celebrating the territory with an exquisite modern style deeply discussing with traditions".

The Australian rock band Tame Impala played at Forest National in Brussels on 30 January.

The Australia Society organised an Australia Day BBQ in Brussels on Sunday 24th January. The event was held at De Kam between 12 noon and 5pm.
Aboriginal Signature held their exhibition Roots of Aboriginal Art in central Brussels 20-24 January in the Galerie Harold t'Kint Fine Arts (31 rue Ernest Allard, 1000 Brussels). It was part of the BRUNEAF ART FAIR and featured works from the Aboriginal art communities of Yirrkala and Maningrida.
An exhibition of Aboriginal art works, "A millennium Kaleidoscope with Ikuntji artists", opened on Wednesday 18th November and ran from 19th November to 17th December at the Aboriginal Signature Estrangin Fine Art Gallery in Brussels. The gallery is open Wednesdays to Saturdays from 2pm to 7pm or by appointment. For more information visit the gallery\'s website, send an email or call: 32 (0) 475 550854.
The Marrugeku dance theatre gave three performances of Cut the Sky at the Royal Flemish Theatre in Brussels on 22-24 October. Marrugeku\'s website describes the group as creating "innovative intercultural dance theatre from the northwest Australian experience, where desert meets sea, Australia meets Asia and where cultures fuse and morph."
One of Australia\'s reportedly foremost pianists, Phillip Shovk, performed in the Brussels Piano Festival on Tuesday 6th October at 20:00 in the city\'s hall\'s breathtaking Gothic Hall. Read more (in French)
The Australian film director Nick Robinson has had his film Life on the Reef - Ep 1 selected in competition in the Festival International Nature Namur. The festival ran between 9th October to 18th October.
The Australian film Charlie\'s Country was screened on 14 October at the Centre Culturel de Watermael-Boitsfort in Brussels. Made in 2013 the drama film was directed by Rolf de Heer and stars David Gulpilil as Charlie. The Avoca project\'s REHEARSING CATASTROPHE took part of the Mons 2015, European Capital of Culture Festival in 2015