Australian Embassy to Belgium and Luxembourg and
Mission to the European Union and NATO
Embassy address: Avenue des Arts/Kunstlaan 56, Brussels 1000 - Telephone: +32 (0) 2 286 0500 - Fax: +32 (0) 2 286 0576 - Email: austemb.brussels@dfat.gov.au
Welcome to the website of the Australian Embassy in Brussels. Our role is to promote Australia's relationships with Belgium, Luxembourg, the European Union, and NATO. The Embassy is open from 08.30am to 5:00pm weekdays, except public holidays.

@AusEmbEU
---
United Nations Security Council & Human Rights Council
Foreign Minister Julie Bishop has announced on 29 September announced Australia will be a candidate for the United Nations Security Council in 2029-30. The need for strong international cooperation to tackle global security challenges becomes more pressing each year. Australia seeks this term determined that elected members can and should make a difference in increasing the Security Council's effectiveness in maintaining international peace and security. Read more

Promoting Economic Growth in the Pacific
On 29 September Foreign Minister Julie Bishop met with Pacific Foreign Ministers to exchange ideas on how to grow economies and build sustainable development in our region. A dynamic private sector, the economic empowerment of women and healthy populations are all critical elements of building prosperity in the Pacific. Read more
International Day of the Tropics
Australia will lead efforts to establish the 29th of June as the International Day of the Tropics.Growth and development in the tropics are critical to global prosperity. Covering more than 40 per cent of the world's surface, the tropics are home today to over three billion people; by 2050 50 per cent of the world's population will live in tropical regions. Read more

Robb departs for crucial regional trade pact (TPP) talks
Minister for Trade and Investment Andrew Robb departed on28 September for Atlanta Georgia for negotiations with ministerial counterparts from 11 other countries on the Trans-Pacific Partnership Agreement (TPP). Read more

United Nations Peacekeeping pledge
Australia has continued its tradition of strong support for UN peacekeeping, pledging to provide strategic air lift and training support. Australia's Minister for Foreign Affairs Julie Bishop today joined more than fifty world leaders at the United Nations General Assembly in reaffirming support to UN peacekeeping and offer pledges of assistance. Read more

6th MIKTA Foreign Ministers' Meeting
Foreign Minister Julie Bishop on 27 September chaired the sixth MIKTA Foreign Ministers' Meeting, bringing together Foreign Ministers from Mexico, Indonesia, Korea and Turkey to discuss key global and regional issues that affect our security and prosperity. Read more

The Syrian and Iraqi Humanitarian Crisis
Australia will resettle an additional 12,000 refugees who are fleeing the conflict in Syria and Iraq. Our focus will be on those most in need – the women, children and families of persecuted minorities who have sought refuge from the conflict in Jordan, Lebanon and Turkey. Read more

Australian Arts and Culture Highlighted in Turkey
Foreign Minister Julie Bishop has announced that the internationally acclaimed Bangarra Dance Theatre will perform in Istanbul as part of Australia's year-long cultural festival 'Australia Now, Turkey 2015'. Read more

International Investment Australia
The total stock of foreign direction investment (FDI) in Australia in 2014 amounted to $688 billion or 4.2 per cent of total global FDI. More details are outlined in DFAT's 2nd annual International Investment Australia publication, released on 14 September by Minister Robb during his investment statement to Parliament. Read more
Engaging the private sector in aid and development
Foreign Minister Bishop has announced a new strategy to enhance the Australian government's engagement with the private sector across all areas of the aid program. Read more

Peter Greste Verdict
Foreign Minister Bishop on 29 August said that she was dismayed by the decision today of the Egyptian District Court, which has found Peter Greste guilty of broadcasting offences.She added this is a distressing outcome for Mr Greste, his family and supporters. Read more

Iran nuclear deal
The Australian Government welcomes the progress made towards addressing international concerns about Iran's nuclear program. Read more

Ambassador Higgie attends headstone rededication ceremony in Belgium

Ambassador Mark Higgie (pictured above) attended a headstone rededication ceremony on 20 September at Birr Cross Roads Cemetery (links to CWGC information on cemetery) in Belgium during which three First World War graves were rededicated. They were the graves of Private Charles Eacott and Private Harry Huntsman of the 7th Battalion Australian Imperial Force (AIF), and Private John (Jock) Neilson of the 8th Battalion AIF. In a media release (links to media release) the then Minister for Veterans' Affairs, Senator the Hon. Michael Ronaldson, said that "These men died in some of the worst fighting of the First World War. In just eight weeks, Australia suffered 38,000 casualties near Ypres,"

Finance Minister Cormann visits Belgium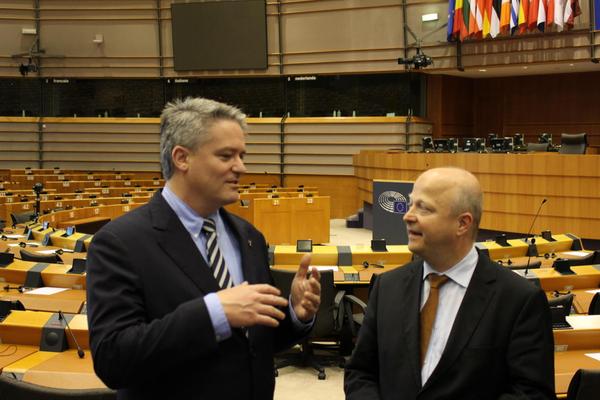 Minister Cormann is pictured (left) with Mr Michel Theurer MEP, Chair of European Parliament Delegation for Relations with Australia.
The Australian Minister for Finance, Senator the Hon Mathias Cormann, visited Belgium at the end of June as the 2015 leader of the European Australian Business Council (EABC) mission to Europe. He discussed Australia's relationship with the European Union, including bilateral trade relations in the context of the proposed Australian-European Union FTA with Members of the European Parliament, European Commission Vice-Presidents Jyrki Katainen and Valdis Dombrovskis, and Commissioner for Trade Cecilia Malmstrom. Minister Cormann also met Carlos Moedas, Commissioner for Research, Science and Innovation, and the Belgian Minister for Finance Johan van Overtveldt. Together with the EABC mission, the Minister also visited Tyne Cot cemetery and, with EABC Chairman Alastair Walton, laid a wreath at the Menin Gate, Ypres.
| | | | | |
| --- | --- | --- | --- | --- |
| Travel advice, travel registration and Australian passport applications and renewals. | | A representation of Australia, symbolising our growth and expansion | | Using our international diplomatic assets to advance Australia's prosperity and global prosperity. |