Update October 2019
Australia-NATO Relations
Australia's relationship with NATO has expanded considerably in several areas since the deployment of Australian forces to Afghanistan under the NATO-led International Security Assistance Force (ISAF). Committed to building on the gains in interoperability and cooperation developed through Australia's participation in ISAF, Australia and NATO signed a joint Political Declaration in June 2012. This was followed by the signing of Individual Partnership and Cooperation Programs in 2013 and 2017.
In 2014, NATO further recognised Australia as a valuable, capable and reliable partner by granting Australia Enhanced Opportunities Partners status.
In August 2019, Australia and NATO signed a renewed partnership agreement during an historic visit of NATO Secretary General Jens Stoltenberg to Australia. This agreement will boost Australia-NATO political and strategic engagement, including in the Indo-Pacific region.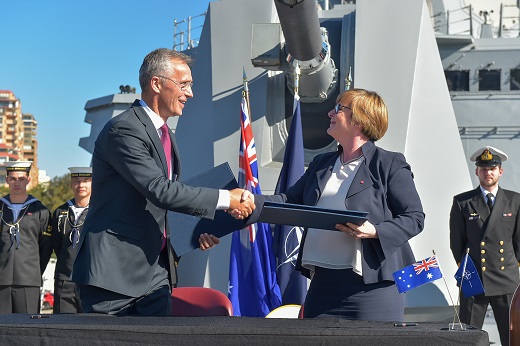 NATO Secretary General Jens Stoltenberg and Defence Minister of Australia Linda Reynolds signing a renewed partnership agreement between NATO and Australia, August 2019.
Australia remains committed to Afghanistan. It contributes around 300 personnel to the NATO-led Resolute Support Mission in Afghanistan and USD100 million per year to support the sustainment of the Afghan National Defence and Security Forces.
In addition to close cooperation on Afghanistan, Australia and NATO also address shared security challenges through dialogue and cooperation, including on defence capacity building, crisis management and Women Peace and Security.