Upcoming events
Past events
Supporting civil society to protect civic space in South-East Asia

Wednesday, 24 February 2021
10:00-11:30 CET (Brussels) / 16:00-17:30 ICT (Hanoi)
Online seminar (Webex)
Hosted by International Institute for Democracy and Electoral Assistance (International IDEA) and the Australian Mission to the European Union
-----------------------------------------------------------------------------------------------
Expert Webinar: WTO: WHAT CAN WE ACHIEVE BY MC12?
Wednesday 9 December 2020
16:00-17:15 CET (Brussels, Geneva)
10:00-11:15 EST (Washington)
Watch to hear the perspectives and insights of international experts on what can be achieved in the lead up to MC12 to reform the WTO.
Our expert panel, was moderated by Australian Ambassador to the WTO, George Mina, included:
Marie-Pierre Vedrenne, Member of the European Parliament, Vice President of the European Parliament's Committee on International Trade
Ignacio Garcia Bercero, Director responsible for WTO matters at the European Commission's Directorate General Trade
Wendy Cutler, Vice President and Managing Director at Asia Society Policy Institute, Washington D.C.
Introduction by H.E. Justin Brown, Australian Ambassador to the EU
Watch the recording of this event here: link and password: Australia2020
-----------------------------------------------------------------------------------------------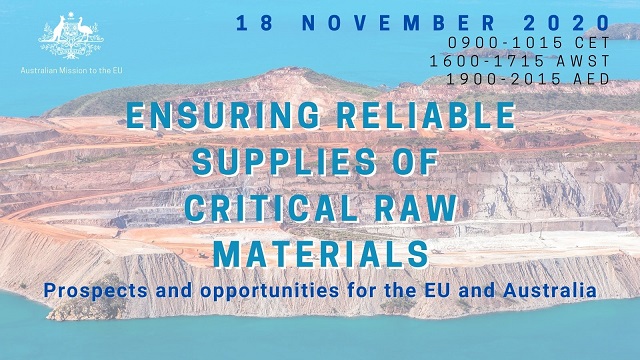 Our expert panel was moderated by Philippa Nuttall-Jones, Editor-in-chief, Energy Monitor, included:
Mr Gwenole Cozigou, Director, Directorate General for Internal Market, Industry, Entrepreneurship and SMEs (DG GROW), European Commission
Ms Jessica Robinson, General Manager, Australian Critical Minerals Facilitation Office
Mr Jacques Eksteen, Chief Operating Officer, Australian Future Battery Industries Cooperative Research Centre (FBICRC)
Mr Bernd Schӓfer, Chief Executive Officer, European Institute of Innovation and Technology Raw Materials (EIT Raw Materials)
Introduction by H.E. Justin Brown, Australian Ambassador to the EU
Watch the recording of this event here: link with the password Australia1